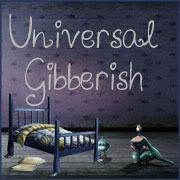 Are you ready for another spotlight?
Today coming all the way
"across the pond"
I am excited to
Pimp My Blog
out to Annie who blogs @
Universal Gibberish
.
Speaking of across the pond, I had a Chihuahua. His name was ImA LiL Tinker of Animal Haus. He had some really nice blood lines and lineage from the UK! CH Roundtable's Mr. Bojangles and CH The One and Only; also CH Sudajac's Father Christmas and Chocolate Choice of Emmrill! (CH means they were Champions in the dog show world) Thinking of my little boy, some great Chihuahua bloodlines from the UK.
Anyway that is way, way off topic of Annie and her blog Universal Gibberish. Annie is just not a blogger and writer she also has a little self published e-book which
is why I chose her to be one of my Monday spotlights. Now way back at the beginning of 2012 just as the excitement of A-Z was bursting at the seams and the sign up was only a few days old Annie was one of my only eight followers then. Her groovy blog is about dreams, movies, her writing and everything in between.
You can read about her favorite dream,
Killer Alien Dinosaurs
which is only one of her dreams she's written and blogged about. You can read more on her blog. Personally after reading them I feel they would make good little Children's Stories which are stories that appeal to a couple of my older grandsons. When Annie isn't writing and blogging, s
he is studying Writing and
Humanities with The Open University. She also enjoys many other things like watching movies, visiting friends, reading, online gaming and eating cake.
Her book,
Alphabet Wishes
is a collection of poems beginning with the letter A and ending with Z and were her 2012 A-Z Blogging Challenge postings. Some of you may not know, but after the A-Z was over, and we'd all put those post to rest, or took vacations Annie put her postings, Alphabet Wishes to an e-book. What a clever and brilliant idea to put them between a book cover.
Alphabet Wishes is:
"
I wish the world was filled with angels. What do you wish for? Alphabet Wishes is a collection of twenty-six poems; one for each letter of the alphabet. From inspirational, to funny, to powerful; there is a poem here for everyone. They are short, sweet, and occasionally funny. A delight for all who read them."
The menopausal ladies are wondering if you have any more writings in the future? And if so, what genre?
Alphabet Wishes is currently available on e-Book and available on
Amazon,
Alphabet Wishes
and also on Goodreads
Alphabet Wishes
I personally thought, what a clever and brilliant idea that was to put her postings to book form! After you finish checking out her e-book, visit her at
Universal Gibberish
. Oh and I have some inside scoop. Annie tells me,
"

I'm working on another poetry collection at the moment, and will hopefully have that out at the beginning of next year, which is so close already, then I'm going to work on a few story ideas I have."
How cool is that? She has more books in her future. Many thanks to Annie for taking time from her busy schedule to visit! Please stop by and check out her blog and her book,
Alphabet Wishes!
C'est La Vie
©
Gossip_Grl
pics belong to Universal Gibberish